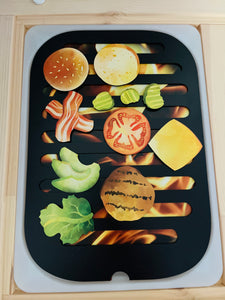 A wooden hamburger set is a great toy for children to engage in pretend play and develop various skills. Here's how this set can be used to play pretend and enhance different abilities:
Pretend Grilling: The set can be used with the grill insert where children can place their wooden hamburger meat and pretend to grill it. This activity encourages imaginative play and helps children develop storytelling skills as they create scenarios around grilling.

Burger Assembly: The set includes wooden burger components such as buns, lettuce, cheese, tomatoes, pickles, and other toppings. Children can practice sequencing skills and hand-eye coordination as they stack the ingredients in the correct order to assemble their burger.

Custom Burger Orders: Children can take turns playing the role of the customer and the chef. They can use their creativity to imagine and place custom orders, specifying the ingredients they want on their burger. This activity fosters communication skills, social interaction, and imaginative thinking.

Memory and Sequencing Skills: Children can challenge their memory by memorizing and replicating custom burger orders. The chef can take an order, temporarily hide it, and then try to recreate the burger according to the customer's request. This activity promotes memory skills, concentration, and cognitive development.
Overall, this wooden hamburger set provides an engaging platform for children to enjoy pretend play, enhance their sequencing skills, exercise their memory, and practice social interaction.
Info:
 -Each piece is made out of wood and UV printed
-Patty 3.1x3
-Avocado 2.9x3
-Bacon 3x2.5
-Top and bottom Bun 3x3
-Cheese 3x3
-Lettuce 3x2.6
-Pickles 1.7x1.4, 1.3x1.2, 1.2x1 (choking hazard)
-Tomato 3x3
You can find the grill HERE.
 For more inserts, go to www.duckduckplay.com
Be sure to join Duck Duck Play for updates on new items and early educational ideas.

Warning: This product contains small parts which may pose a choking hazard. Not suitable for children under 3 years of age. Adult supervision is required. (Until testing has been completed for this item)