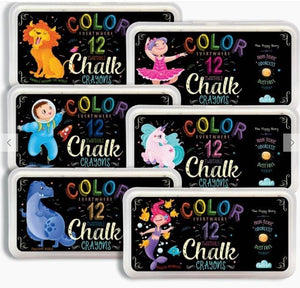 12 dry erase, twistable chalk crayons in vibrant, bright colors!

Non-toxic, odorless, dust free! Color Everywhere: Windows & Mirrors (color and wipe clean) Black Paper, White Paper & Cardboard (vibrant colors for any background) Chalkboards & Whiteboards (write, doodle & wipe clean)
The Piggy Story's Dry Erase Collection (colors on smooth, wipes off easily) 
If you would like to order for Pickup, please message me first as I need to add that to the pickup option.
*Adult supervision is advised. Does not wash off porous surfaces. Recommended for ages 3 and up. Avoid leaving in direct sunlight.