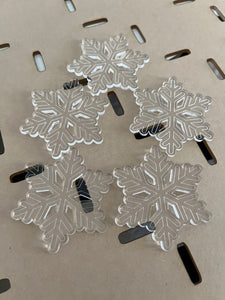 Acrylic Snowflakes are perfect for any open ended play. Our acrylic can be used with dry erase crayons or dry erase markers to color the snowflakes and can be washed off. 
Info:
 -Choose from 10 pieces of Clear, Frosted, Blue and Mirror Acrylic
-All material is laser cut
-Choose from 2 inch or 3inch
-No bins or accessories are included.
-Acrylic is safe for water play
For more inserts, go to www.duckduckplay.com
Be sure to join Duck Duck Play for updates on new items and early educational ideas.

Warning: This product contains small parts which may pose a choking hazard. Not suitable for children under 3 years of age. Adult supervision is required. (Until testing has been completed for this item)