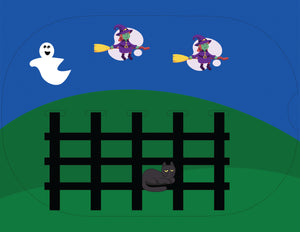 This is a digital item. No physical item will be shipped to you.
A "5 Little Pumpkins" printable designed to fit a small Trofast popsicle insert is a wonderful educational and interactive resource for children. Here's how this printable can be used effectively:
Interactive Storytelling: The "5 Little Pumpkins" printable is an engaging tool for interactive storytelling. Children can use it to visually follow along with the story as they recite it.

Numeracy Skills: As children recite the story and count down from five to one, they are reinforcing numeracy skills, specifically counting backward.

Visual Aid: The printable serves as a visual aid that enhances comprehension and memory as children see the pumpkins and their expressions while listening to the story.

Fine Motor Skills: Manipulating the small popsicle sticks or pieces corresponding to the pumpkins helps develop fine motor skills as children place them in the Trofast insert.

Rhythm and Rhyme: "5 Little Pumpkins" is a rhyming and rhythmic story, which can help children develop an ear for language and rhythm in storytelling.

Sequencing: The story involves a sequence of events, with each pumpkin having its own action or fate. This supports the development of sequencing skills.

Participation: Children can actively participate in the story by moving the popsicle sticks as they recite it, fostering engagement and interaction.

Imagination: The story and visual aids encourage children to use their imagination to picture the pumpkins and the gate.

Social Interaction: Reciting the story can be a group activity where children take turns moving the pumpkins and reciting the lines, promoting social interaction and cooperation.

Seasonal Learning: "5 Little Pumpkins" is a popular Halloween-themed story, making it an excellent resource for seasonal learning and festivities.

Reusability: The printable is reusable, allowing children to recite the story multiple times and practice their counting and storytelling skills.

Customization: The printable can be customized with different colors, designs, or even additional elements to make it more visually appealing and interactive.
Overall, the "5 Little Pumpkins" printable paired with the Trofast popsicle insert and popsicle sticks offers an engaging and educational way for children to enjoy and learn from this classic Halloween story. It combines literacy, numeracy, fine motor skills, and imaginative play in a fun and interactive package.
Popsicle insert can be found HERE.