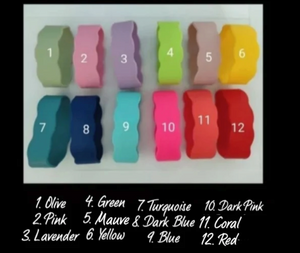 Made of 100% heat-tolerant silicone and free from BPA and latex, Water Bottle Bands are food-safe and compatible with most sippy cups, bottles, and 20 oz skinny tumblers.
Select your color and type the desired name in the custom name box; be sure to double-check the spelling. Adding characters, animals, or symbols is optional and may be included depending on the artwork and length of the child's name. Feel free to message me or use the chat box if you have any questions before ordering. 
Fonts will not be an option to choose as I do change them depending on the name. They will always be readable. You can ask to see a mock up if needed by email. 
If ordering for pickup, please message me as I need to add some stock to the pickup section. 
For more inserts, go to www.duckduckplay.com
Be sure to join Duck Duck Play for updates on new items and early educational ideas.

Warning: This product contains small parts which may pose a choking hazard. Not suitable for children under 3 years of age. Adult supervision is required. (Until testing has been completed for this item)